In Memory
Rebecca Brown (Wilson)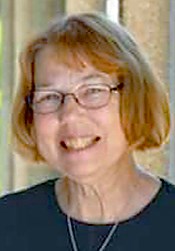 Rebecca (Becky) Jo Wilson, 69, of Lincoln, passed away September 27, 2022. Born November 25, 1952, in Lincoln, NE to John and Eleanor (Null) Brown. A lifelong Lincoln resident, Becky graduated from Lincoln Southeast High School in 1971. She married her husband, Philip (Charlie) Wilson on March 10, 1973.
Rebecca was a lifelong member of St. Matthew's Episcopal Church where she was a secretary, a member of St. Mary's Guild, the Altar Guild, Director of Christian Education, and taught Sunday school. She also worked at Fred and Ruby's Luncheonette at Parkway Lanes. Rebecca enjoyed vacationing in South Dakota, sewing, puzzles, classic cars, and restoring and showcasing her '67 mustang convertible.
Family members include her husband, Charlie; daughter Melissa Wilson Otero; son Jeremy (Jorja) Wilson; grandchildren Thomas, Harry, Lily, Eddy, Audrey, and Dean; brothers Ron (Mirela) Brown, Bob (Sheila) Brown, and Rich (Donna) Brown; numerous nieces and nephews. Preceded in death by her parents.
Memorial Service: 11:00 a.m. Friday (10-7-22) at St. Matthew's Episcopal Church, 2325 South 24th Street. Memorials can gratefully be sent to St. Matthew's Episcopal Church or the Nebraska Alzheimer's Association. Condolences online at Roperandsons.com
https://www.legacy.com/us/obituaries/journalstar/name/rebecca-wilson-obituary?id=36681891